Bergy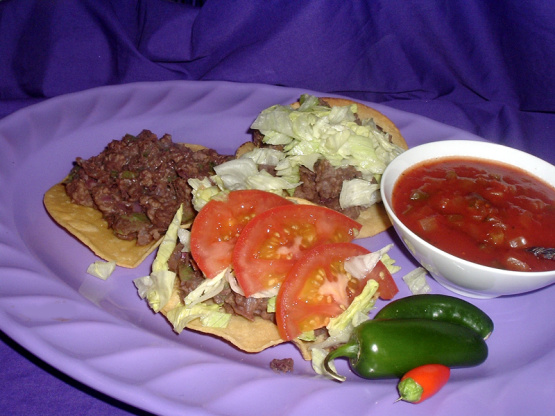 These are fun to make and fun to eat. Everyone gets to build their own. Great taste!!

Top Review by Bergy
Love Tostados and these were good I added a few things to the recipe (personal taste). I cheated and used the bought boats for tostados, heated them just before serving. Used chopped chicken, stir fried, had a bowl of shredded lettuce, refried beans, salsa and instead of sour cream I whipped 2% cottage cheese (you can't tell the difference) and added a pinch of sugar to the whipped cottage cheese Dinner was thoroughly enjoyed Thanks Inez — May 6, 2002 Added comments I used corn tortillas - first I fried them with only a bit of oil then dried them in the oven 300 for 15 minutes so they were completely crisp. Used recipe#10614 for the fried beans - dressed them with tomatoes. lettuce & HOT Salsa recipe#988424 Wonderful
Brown ground beef with onions and peppers.
Add salt and pepper.
Cook till well done.
Add refried beans.
Cover and simmer for 5 minutes.
Cook tortillas in small amount of oil in small frying pan until golden brown on bottom.
Drain on paper towel.
Spread meat mixture on tortilla and top with your favorite topping.
cheese,tomatoes,olives,sour cream etc.