DuChick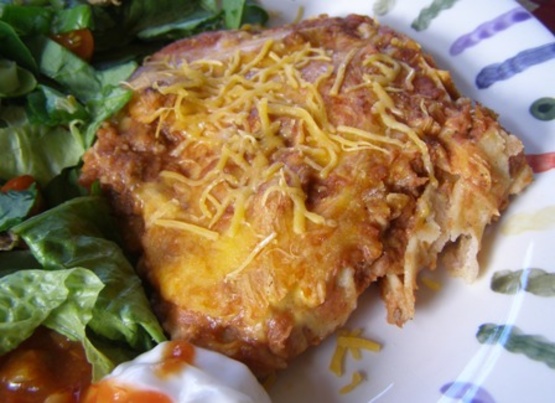 I came up with this by using different recipes for similar recipes. It is a nice dinner. Fast, easy, cheap and healthy! I ran this through recipe builder on Weight Watchers this is 3 points per serving.
Mix ground beef (cook first if not previously cooked), fat free refried beans, tomato sauce, 1 cup water, 1 teaspoons cumin, 1 teaspoons garlic powder, 1 Tbl. chili powder, 1 teaspoons onion powder, & 1/4 teaspoons ground red pepper.
Simmer until beans have "melted" stir in the pepper jack cheese.
Cut corn tortillas into quarters.
Spray bottom of 9X13 baking dish with PAM.
Layer 1/3 of tortillas on bottom.
Spoon 1/3 of meat, bean, & tomato sauce mixture. Repeat.
Sprinkle reduced fat cheddar on top of last layer.
Bake covered at 400* for 30 minutes.