Maggie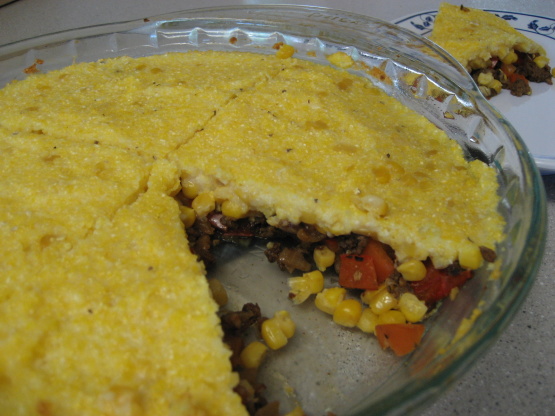 Easy way to make Tamales (or close to them). Good flavor. If you don't like the corn grit flavor go completely away from the Mexican version and use Bis-Quick on top. This would not be a tamale but some people may prefer it!

Top Review by Maggie
Excellent in every way and one I'll make again and again. With very lean meat, this is actually even relatively low calorie while still tasting fabulous! I made this almost exactly as written. The only difference was that I used red pepper since they were on sale, and when I realized I didn't have enough chili powder, I added in just a bit of cayenne pepper (and kind of liked the kick!). The grits part of this recipe helped offset some of the spice, too. As another healthy side, I made this with Recipe #80996, and I liked them together, but I could see others thinking that it's a little too much flavor all at once. Thank you for sharing such a goodie that is pretty healthy, too!
Saute the meat& onions over moderately-high heat until the meat is cooked& the onions are tender (about 5 minutes) Add half the green pepper& all the garlic.
Saute 3 minutes.
Add the chili powder,oregano.
2 tbsp water& the vinegar.
Lower the heat cover and simmer for 30 minutes.
Stir in the remaining pepper.
While the meat is simmering pour the milk& salt in a saucepan& heat over moderately low heat.
Slowly whisk in the corn grits, simmer stirring often for 3-4 minutes until it comes to a full boil.
Pour the beef mixture into a 9" pie plate.
Cover with the corn and then pour the grits evenly over top.
Bake in 350F oven for about 20 minutes or until the grits topping is firm and the meat mixture bubbles.
Cut into wedges and serve.
The grits will hold it's wedge shape but the meat mixture will be spooned out.