Mexican Take-Out Frijoles Refritos (Refried Beans)
NELady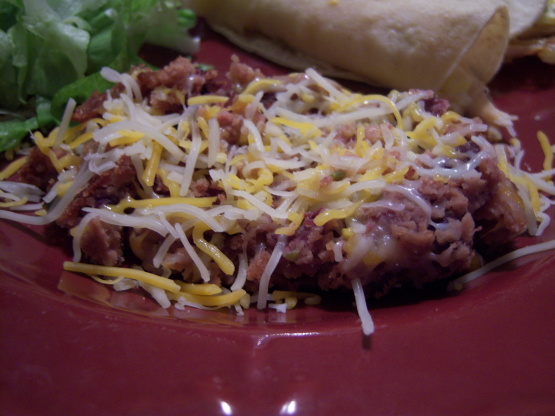 Refried beans are a matter of taste, and for those who grew up eating good Mexican food, they can also be a point of contention. Some think they should be spiced with cumin and chili powder, while others think the flavor of the beans should shine. Some think they should be mashed and refried to a thick, mortar-like paste, while others feel they should be kept loose, perhaps even adding extra water to thin them. We like ours simple, with just the flavor of caramelized onions in the background to give them depth.

Top Review by NELady
These beans were easy to prepare, but the garlic was a little overwhelming (and I'm a garlic lover). I think half the amount of garlic would be better (like 1-2 cloves instead of 4). I used pinto beans instead of black beans. I served these beans with recipe #369018. Thanks for sharing this recipe. Made for 1-2-3 Hit Wonders Tag Game.
Let the beans soak overnight in a large bowl, in enough water to cover them by 2 inches or quick-soak them by rinsing the beans in a colander under cold water and discard any discolored ones. Combine the beans in a soup pot with enough cold water to cover them by 2 inches, bring the water to a boil. Let the beans boil for 2 minutes. Remove the pot from the heat and let the beans soak, covered, for 1 hour.
Drain the beans, pour them back into a pan, and add enough water to cover them by 2 inches. Cook the beans over low heat, uncovered, for 30-45 minutes or until almost cooked through. Add the salt and cook for 15-20 minutes, or until the beans are cooked and creamy inside. Add more hot water if necessary to keep the beans just covered.
Drain the beans and reserve the liquid. Put the beans back in the pot with about 1 cup of their cooking liquid. Mash them with a potato masher or the back of a wooden spoon until they are creamy. Add more liquid if necessary.
In a large nonstick skillet, heat the oil over medium heat. Add the onion and cook, stirring frequently, until deep golden brown, about 10 minutes. Add the garlic and cook a minute or so, then add the mashed beans. Continue to cook, stirring about 10 minutes, or until the beans are the desired thickness. Add more bean liquid if you like your beans thinner. Taste and season with more salt if needed. Serve with the crumbled cheese.