Gabe6309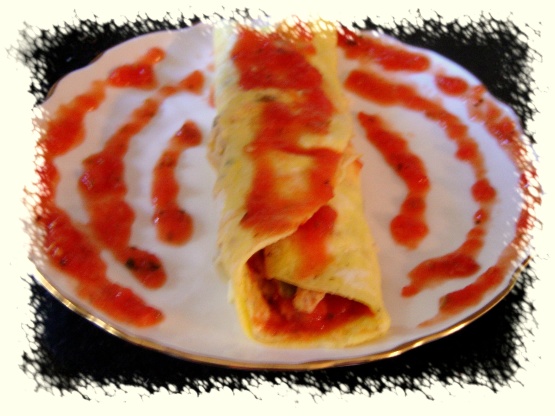 This is my own invention. I have heard about people liking Salsa on their eggs. So I got the idea of the Taco Omelet. It is a nice twist on what you may think of when it comes to omelets. It is GOOD!

Tasted good, but it takes way too long to do for an average morning breakfast. Most definatly a weekend thing unless you have an extra twenty minutes on hand every morning.
Spray non-stick skillet with Cooking Spray. Heat skillet between medium and high heat.
Beat eggs.
Pour eggs into pan and sprinkle the green pepper and onion. Sprinkle chicken on top of the eggs. Finely crush tortilla chips and sprinkle across the eggs.
When omelet moves freely when you shake the pan, flip the omelet to cook it on the other side.
When finished, turn over the pan onto a plate. Top the omelet with Queso Fresco while it is still hot.
Spread salsa over the omelet. Roll up and enjoy!