Mexican Surprise Meatballs
Sara 76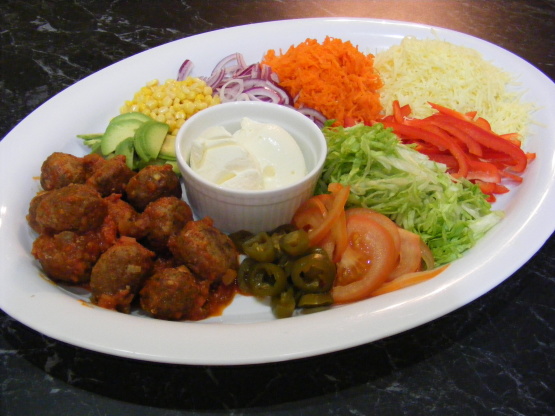 Great appetizer that can be made in advance and just reheated. Found this recipe on the internet and made them last week for the first time, it was popular! It made 53 meatballs when I made this I added some chopped Jalapenos from a jar to the sauce for an extra kick.

These little meatballs are total perfection! I love the olive in the middle, it just gives such a burst of flavour! I divided the meat mixture in half. I made half with the olives, and used hot salsa as the picante sauce. I made the other half without the olives (my kids don't like olives) and cooked it in a medium heat salsa. I served them on a platter with a range of salads (cheese, carrot, red capicum, red onion, canned corn, lettuce, tomato, jalepeno chillies, avocado, and sour cream) and let everyone build their own burrito wraps! It was a fun and delicious dinner! They would also be perfect as a party food if served with toothpicks, as suggested in the recipe description. Made in memory of Pets'R'Us.
Pre-heat oven at 350°F.
Soak the bread in milk.
Mix beef, eggs, onion, garlic, parsley, bread mixture and black pepper thoroughly and shape firmly into 1" meatballs, placing 1 olive in center of each meatball.
Place in baking dish.
Bake 25 minute or until meatballs are done.
Put meatballs in saucepot with the picante sauce and heat through.
Serve with wooden picks.