Mexican-Style Chicken Soup
Debbwl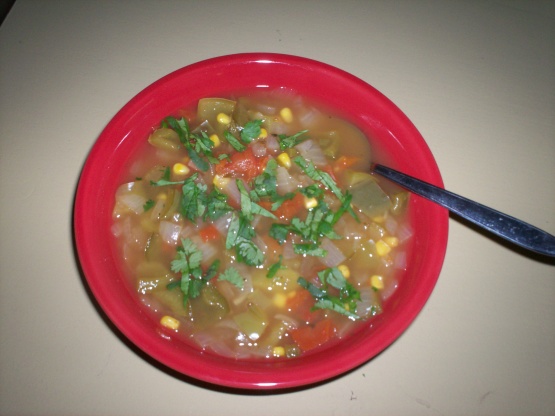 Taken from the September 2009 issue of Chatelaine. Feeds a large or very hungry family

Top Review by Debbwl
A great soup to take the chill off. Was concerned it might be to spicy for DH who does not care for heavily spiced foods, however he thought this was quite tasty and ate seconds. The lime, cilantro, and corn are a wonderful accent to this very flavorful soup. Thanks so much for the post.
Cut chicken into bite sized pieces.
Lightly coat a large saucepan with oil and set over med-high heat.
Add about 1/2 the chicken without crowding.
Saute the chicken until no longer pink, about 3 minutes, remove to a very large stock/soup pot.
Repeat with remaining chicken.
Once all chicken has been removed, add onions, add more oil if needed.
Stir until slightly softened, about 2 minutes.
Stir in peppers, tomatoes, celery, jalapenos and seasoning, cook 3 more minutes.
Add to stock pot, add broth.
Bring to a boil, then reduce heat to med-low.
Simmer, covered and stirring occasionally until all vegetables are tender, from 10-15 minutes.
Add corn during last 2 minutes of simmering.
Stir in lime juice.
Just before serving, top with cilantro.
Soup will keep well in the fridge for 3 days or in the freezer for 3 mths.