Mexican Style Beef in Sauce
teresas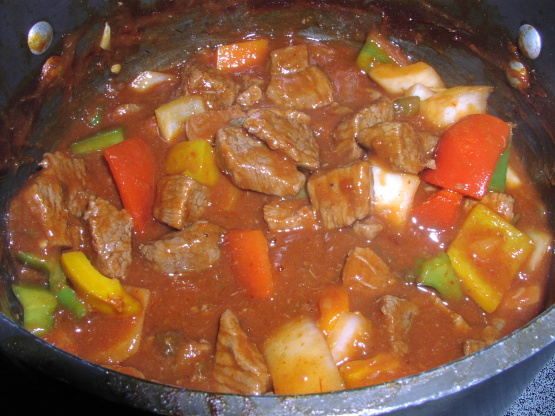 I just made this up last night and it was pretty good if I must say so myself!! I served it as a burrito in a flour tortilla with shredded cheese and sour cream.

This is an excellent spicy and hot dish! I took it up a notch, and added some veggies to give it more of a stew taste. I threw in red, green, orange and yellow peppers with some chucks of onions the last 1/2 hour of cooking. I served it over brown rice and a side of refried beans and baked whole wheat flour tortilias. This is going in my 5 star cook book to make again. Hottopot thanks for creating and posting this delicious hot and spicy dish.
1360.77

g beef stew meat

170.09

g can enchilada sauce (hot)

236.59

ml salsa

9.85

ml oil

0.25

ml red pepper seasoning

0.25

ml garlic salt

0.25

ml black pepper
Heat oil.
Add beef; season as desired.
Brown all sides.
Add sauce and salsa; mix well.
Simmer 1 1/2 hours or until meat is tender.
**serve over rice, or like myself, with warm corn or flour tortillas, garnished as you would a taco.