Mexican-Style Beef Casserole
DuChick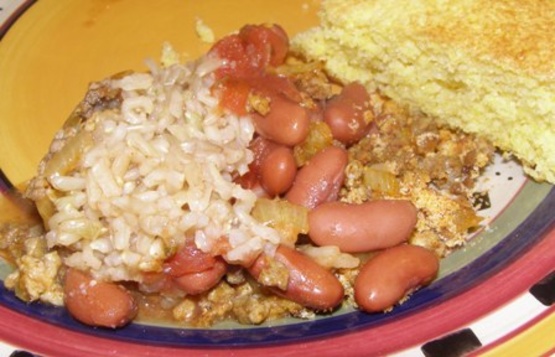 From: "The Bean Cookbook" by Norma S. Upson (1982). Hearty and filling. Brown rice usually takes about 45 minutes so I'm including that in the cooking time. *If you would like some heat or a chile flavor consider adding tabasco, jalapenos or diced mild green chilies. I just made this with salsa instead of tomatoes and added black pepper. I was very pleased with the results. A simple flavored hearty meal. I'm used to mexican dishes having cumin and it may work with this but I liked it being different and it may appeal to people who don't like cumin. I think black olives and bell pepper would be good in it too. Some people may also want to add layers of cheese but I was really surprised at how good it was without it. To cut down the fat more you could cook the onions with the ground beef and skip the butter.

This was good and once the rice was done took no time to get this on the table. I did use the tomatoes since DH bought a hotter than we use salsa and my dish had more liquid then I would have liked. Next time I would add mild salsa, mild green chilies, the beans and seasonings then simmer for a bit. Mix in the rice and serve with more salsa, tortillas or chips, and sour cream. Made and reviewed for Kittencal's Recipe Tag Game.
Cook rice according to package directions, adding bouillon cube to cooking water.
When the rice is nearly done, saute onion in butter.
Crumble beef and add to onion with garlic, mustard, chili powder, salt and pepper. Cook until meat loses pinkness. Drain grease if needed.
Layer half the meat mixture in the bottom of a 2-quart casserole.
Spread cooked rice over meat.
Spoon tomatoes over rice.
Spoon beans with liquid over tomatoes.
Put remaining meat mixture over beans.
Combine paprika and cheese and sprinkle over the top.
Bake uncovered at 350F for 30 minutes.
I enjoyed this with sour cream.