Mexican Stuffed Mushrooms
Bergy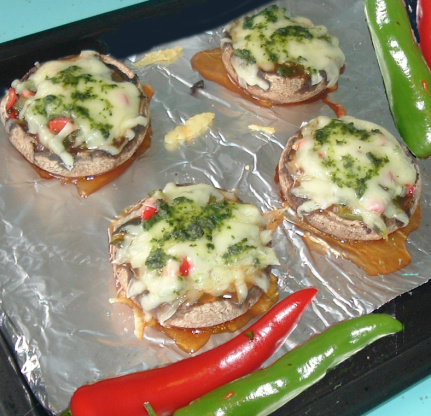 This makes an interesting variation on the usual stuffed mushroom. It has a surprising chile taste and almost melts in your mouth with cheesy flavor...

Top Review by Bergy
Great flavor, has a bit of zip to it (one hot fresh chili pepper added to that zip).I roasted the Poblano in the BBQ and your tip with plastic wrap makes it so easy to peel. I couldn't get Anejo cheese so used Leerdammer, a Dutch low moisture cheese - excellent. For the Cilantro I used a frozen cube of chopped cilantro - ever so handy. If you leave off the cheese this can be a vegan recipe too. Thanks Sue for a very tasty treat
1⁄2 cup salsa (your favorite)

2

fresh jalapeno peppers, seeded and sliced (optional)

2

cups queso Anejo cheese

2 -4

tablespoons chopped cilantro
Roast poblano: blacken on a comal or under a broiler, then place in a bowl under plastic wrap for 15 minutes; after that, easily remove skin, slit open, and discard seeds and stem.
Dice poblano and set aside until needed.
Preheat oven to 375F.
Scrape out dark gills from the underside of the mushrooms and make sure the mushrooms are clean.
Put some foil on a baking sheet and spray with oil and place mushrooms gill side up on it.
Spread 2 tablesoons of salsa (approximate) on each mushroom, smoothing out- if they are big, add just a touch more, etc.
Divide out the chopped poblanos among the mushrooms and place over the salsa.
Sprinkle with sliced jalapenos (this will make the mushrooms spicy) over the poblanos.
Cover each mushroom with about 1/2 cup shredded queso anejo cheese.
Place pan in oven and bake for about 18-20 minutes or until mushrooms are cooked and tender.
Garnish mushrooms with chopped cilantro before serving.