vrvrvr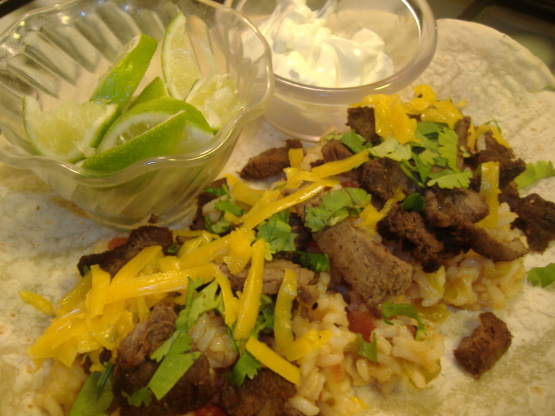 This is a good recipe serving 2 people, but can be increased to serve more.The recipe comes from Ortega, but I found it in a local newspaper.

This was absolutely fab! I made this on vacation in VA Beach with my Fiance, he loved it and keeps asking for it. I've made it 4 times now and plan to make it again and again. A definate winner!!!
Cook Rice.
Meanwhile, combine cumin, garlic powder, taco sauce, salsa, salt and rub over both sides of steak.
Spray broiler pan with cooking spray; place steak on pan; Broil 4 minutes each side or until desired doneness (or cook on outside grill); cut steak into thin slices.
Combine rice, tomatoes and chiles, place mixture in shells.
Top rice mixture with beef slices.
Squeeze juice from limes over beef; top with sour cream, if desired, Enjoy.