Mexican Squash and Ground Beef Casserole
Parsley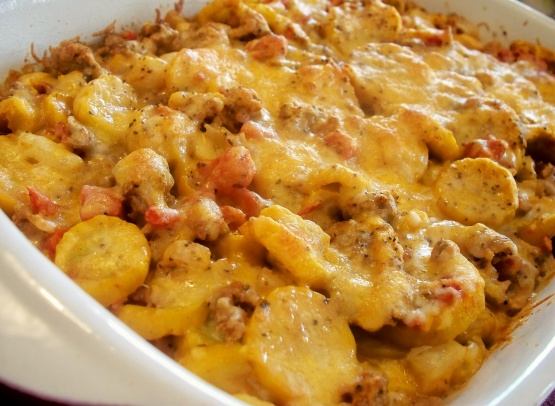 A simple combination of yellow squash, ground beef, and Mexican spices. A great way to use up the bounty of summer squash in the garden.

Following others' comments, I made some major adjustments, including: used 1 can Ro-tel plus 1 can diced tomatoes, both drained; no additional water; omitted smoked paprika; used 2 cloves garlic and also ended up adding about 1/4 or 1/2 tsp. garlic powder; used 1 Tablespoon chili powder; added about 1/2 to 1 tsp. oregano. With those modifications, it was declared delicious by my DH (and me!).
In a large skillet over medium heat, cook the ground beef until evenly brown. Drain and set aside.
Heat the oil in the skillet over medium heat. Mix in the squash, onion and garlic and sauté until tender.
Add the ground beef and tomatoes (and water if fresh tomatoes are used) into the skillet. Season with chili powder, cumin, paprika, salt, and pepper.
Turn mixture into an ovenproof casserole dish. Top with cheddar cheese. Bake in 400°F oven for 15 minutes.