Annie H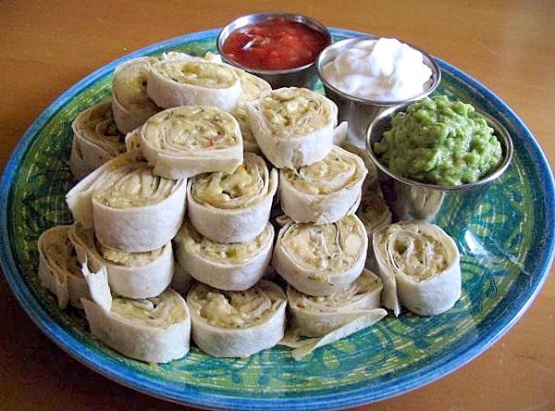 Thought these sounded good, similar to a beef spiral I posted,except these are baked. (from the local newpaper)

Wonderful appetizers. The filling is rich and zesty. I used 1 cup shredded MJ cheese. Very easy to make. I have always served my spirals cold but they were very good baked and served hot. A little crisper texture. I highly recommend this for any party or just as a snack. Thanks Dorothy.
In a large bowl, combine cream cheese, chicken, monterey jack, coriander, jalapeno peppers, and cumin.
Spread mixture evenly over tortillas.
Roll up each tortilla tightly around chicken mixture.
Wrap tightly in plastic wrap and refrigerate for at least 2 hours.
Just before serving, cut each tortilla roll into 1/2 inch slices.
Arrange on greased baking sheet, brush with oil, bake in 350 degree oven for 12 to 15 minutes or until lightly browned.
Serve hot with salsa and sour cream.