Mexican Spiced Steak With Chipotle Con Queso Sauce
loof751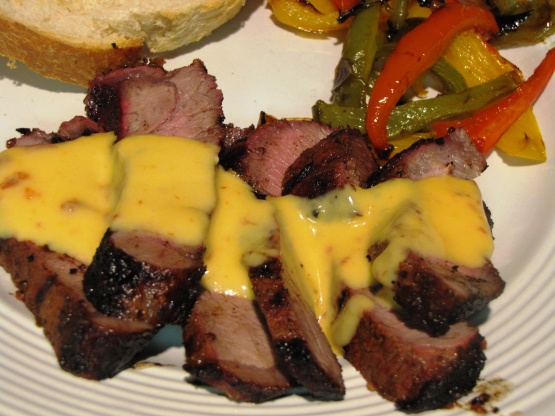 A recipe out of Everyday with Rachael Ray magazine. I love spicy food so this is perfect. It does have a heck of a kick! It's my favorite way to prepare steaks. I have never used the smoked cheddar since I can't find it at my grocery store, so I use regular cheddar cheese.
In a small bowl combine the grill seasoning, lime zest, coriander, cumin, and chili powder. Work the dry rub into the steaks on both sides; set steaks on a plate and let stand for 15 minutes.
In a small saucepan, melt butter over medium heat. Whisk in the flour and cook for 1 minute. Add the milk and cook, whisking, until bubbling 3-4 minutes. Stir in the cheese and chipotles in adobo sauce. Season the sauce with salt to taste. Reduce heat to low to keep sauce warm.
Drizzle a little extra virgin olive oil on a large griddle or skillet. Heat pan over high heat until just smoking. Add the steaks and cook for 2-3 minutes for medium. Remove and let rest 5 minutes. Slice steaks and top with the sauce.