Mexican Sp(Iced) Chocolate Sorbet
2Bleu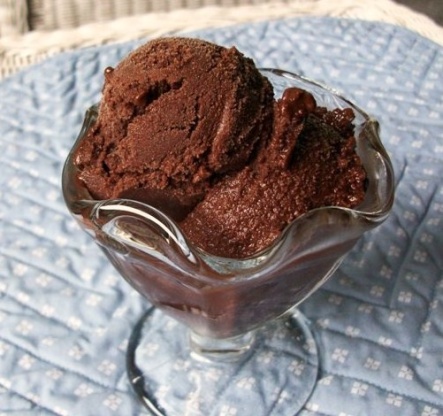 A lot of people have ice cream makers collecting dust in their basement. Go ahead and get it out. You know you want to. Cook time is chill and freeze time.

So easy to make this great chocolate dessert & although I did use just the smallest amount of cayenne, it was enough to notice &, surprisingly, we enjoyed it! I also doubled the amount of chocolate, splitting it half & half between the dark & semisweet! Very, very nice, & a definite keeper of a recipe! [Tagged, made & reviewed in the current Comfort Cafe under the theme Annacia's All Mexed Up!]
1

cup sugar (more if you like)
3⁄4 cup cocoa (Hershey's Dark is good)

2

cups water for low-fat sorbet (or milk (skim, 1% or 2%, your choice)

2

ounces dark chocolate (can double if you like) or 2 ounces semisweet chocolate, chopped (can double if you like)

1

pinch cayenne (or more, entirely optional but is a nice surprise in a frozen dish)
Combine the sugar and cocoa in a saucepan to get rid of lumps. Stir in 2 cups of water or milk and put it over medium-high heat. (Feel free to make part of this coffee if you like ( *whistles innocently*)
Bring to a simmer and cook for 2 minutes. Take off heat and stir in the chocolate. Stir until it's melted.
Let the mixture cool, and then refrigerate until cold.
Pour into ice cream maker and freeze according to manufacturer's directions. The one I used was so easy: pour in, turn on, wait for magic to happen.
Store in freezer for extra firmness.