diner524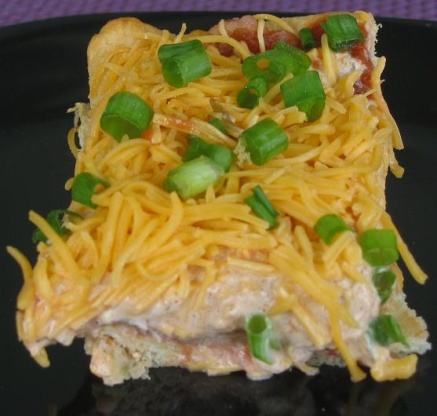 Easy-to-make appetizers sure to score points as part of your Superbowl party buffet table! Plan to chill this Pillsbury recipe at least 20 minutes before serving.
I picked this recipe because it looked very similar to my friends mexican dip, and it is except for the crescent rolls. I didn't add the bell peppers or olives, family doesn't like either of them. I spread the beans on the crescents, then I added the salsa, green chiles and tomatoes. I next added the sour cream mixture and topped with cheese and green onions. I would definitely make this again, but leave out the crescent rolls and just serve as a dip with tortilla chips. Thanks for posting a great recipe Deb!!!!
Separate crescent dough into four long rectangles; place dough rectangles crosswise in an ungreased 15x10" baking pan; press dough over bottom and barely up sides of pan to form a crust; press dough perforations to seal.
Bake crust at 375°for 14 to 19 minutes or until light golden-brown; remove from oven and cool completely.
Spread beans over crust to within a half-inch of edges; stir together sour cream and taco seasoning mix, and spread this mixture over the beans; sprinkle onions, bell pepper, tomatoes, olives, green chiles, and cheese evenly over sour cream mixture.
Cover and refrigerate at least 20 minutes; cut into squares; serve with salsa.
NOTE: I like to spread the salsa evenly over the seasoned sour cream layer (just before sprinkling on the chopped veggies and cheese) rather than serve it on the side.