Mexican Shrimp in Green Bean Sauce
Linky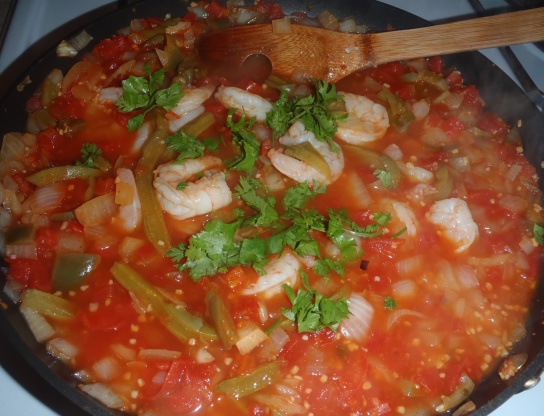 Something a little different, adapted from a little Mexican cookbook I have. Quick to make, too (preparation time includes the active cooking time).
I loved this sauce. The chipotle was not overpowering and very subtle. The same with the heat.
Heat the oil in a large saute pan or dutch oven over medium-low heat. Add onion and garlic and saute until softened, about 5 minutes. Add the tomatoes and cook for another 2 minutes.
Add the green beans,spices, chipotle, adobo sauce and fish stock. Bring to a boil, then reduce heat to simmer. Simmer for 5 to 10 minutes to allow flavors to meld.
Add shrimp. Stir and cook for 1 to 2 minutes (shrimp will just start to turn pink but still appear uncooked). Remove pan from heat, cover and allow shrimp to stand until they turn bright pink (this takes approximately 5 minutes).
Garnish each portion with the cilantro (chopped, if desired). Serve immediately with a lime wedge on the side.
This is good served with rice and warm corn tortillas to soak up the juice, refried beans and sliced avocado.
NOTE: if you prefer, jarred nopalitos may be substituted for the green beans.