Mexican Shrimp Cocktail, a Nice Twist!
Rita1652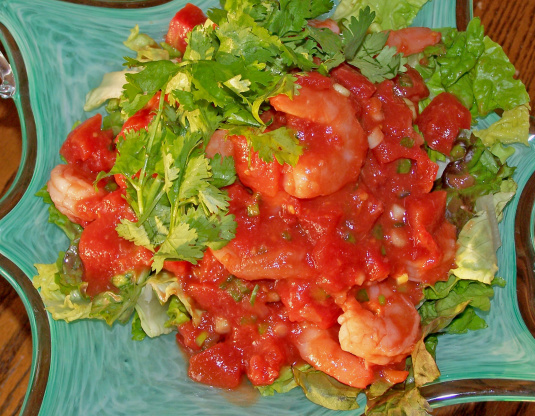 I am always looking for a new way to serve shrimp, and I found this in our local paper and made some minor changes. Please note: this is an adopted recipe and I hope to make it soonest. If you make it before I do, I would appreciate feedback, Thanks ! ZWT REGION: Mexico.

I have been waiting until I could shop in the "Big City" to try this, but as our car is less than reliable I made it with the ingredients I could get locally. The cilantro became chopped celery and I had to use water instead of clam juice. I used spinach in place of iceberg by choice. Even with these make do's I loved this recipe. It's a perfect welcome to early Spring and made a lovely dinner. Kiwi, I apologize for the subs but I had to work with what I could get.
Wash cilantro, chop leaves and discard stems.
Mix with tomatoes and onions and set aside.
Boil shrimp in clam juice (and enough water to cover the shrimp) until pink. Remove shrimp and plunge into ice-water bath until no longer warm; remove from ice water and refrigerate.
Meanwhile, add shells to liquid and simmer 10 minutes. Strain liquid and reserve.
Layer thinly sliced or shredded iceberg lettuce (using as a bed, such as wine glasses or small glass dishes or a single glass bowl.)
Top with shrimp and tomato mixture
Add ketchup, lime juice and Tabasco sauce (to taste) to reserved clam liquid. Pour liquid over shrimp to cover it.
Chill until ready to serve.