Cujo4x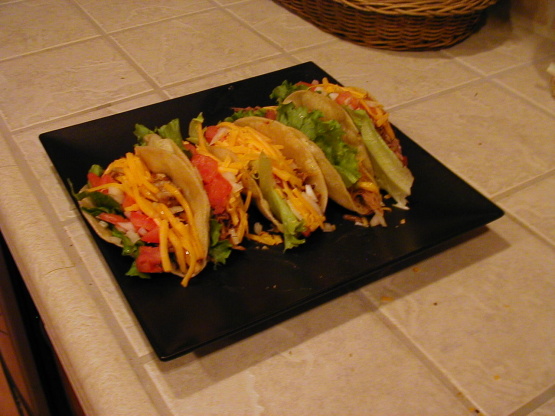 If you have ever been to a taco shop or a Mexican restaurants and wondered how they make the meat for their dishes then here it is. Once you make the meat, you can store it for the week in your refrigerator and use it whenever you want to throw together a quick taco or burrito, and even as stuffing for "Enchiladas Fantastico."
2 -3

lbs pork butt

1

medium onion

1

(7 ounce) can poblano peppers

1

tablespoon cumin

4

tablespoons chili powder
crushed black pepper

4

tablespoons corn oil
1⁄2 cup chicken stock or 1⁄2 cup beef stock
In a large skillet place corn oil and bring to high heat (careful!). Sear pork butt on all sides. Should be browned on all sides.
Let pork butt rest on cutting board until cool enough to handle. Rub cumin, chili powder, salt, and pepper on all sides of pork.
In large cast iron or equivalent make dutch oven style pan, place chicken stock. Add pork butt.
Peel and slice into disk onion. Place onion on top of pork.
Open can of poblanos and remove peppers, save sauce. Place poblanos on onions.
Cover pan and set burner to lowest setting (May also be done in oven) allow to slow cook.
Periodically it may be necessary to remove excess fluid from pan as meat cooks down.
After approx 4 hours check to see if meat falls apart when prodded with fork. (Don't worry if it doesn't. I was told 4 hours of cooking time, my first time it took closer to eight before it flaked apart with a fork) If it doesn't flake apart, continue to cook covered and check each hour.
When meat falls apart, remove any bones. Drain off liquid. Stir in poblano sauce left from can.
You may use immediately for tacos, burritos, enchiladas, flautas, or any other Mexican dish requiring shredded pork.
I recommend adding a dash of rock salt. Keep refrigerated until needed. This meat easily reheats for that quick taco fix.
Note: EXPERIMENT! I substitute Beer for the chicken stock. Add a chunk of fatty beef that has been seered on all sides to the pot, and WOW! I also add a few fresh Jalepenos cut in half with the tops removed. See what works for you.