Az B8990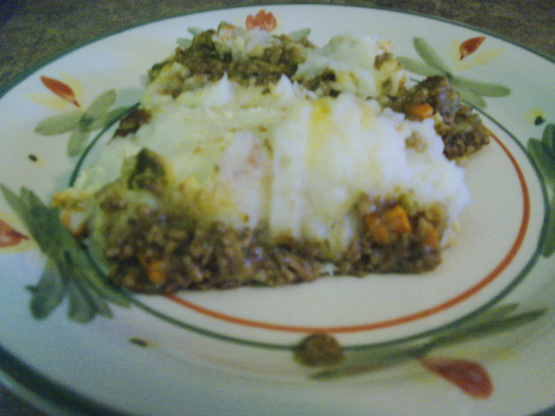 A great use for left overs! Arrachera beef is a marinated meat used in Mexico for tacos. Left-over roast beef, or even ground beef is a good substitute, however I suggest adding some taco seasoning to the meat.
Preheat oven to 400 degrees.
Prepare mashed potatoes, using sour cream instead of milk.
In skillet over medium heat melt butter and saute onions, peppers until onions are almsot transparent, stir in garlic and saute another minute.
Sprinkle flour over mixture and stir for approximately 2 minutes.
Whisk in broth and Worcestershire sauce.
Thicken gravy 1 minute.
Stir in carrots and corn.
Add meat and cilantro.
Spoon mixture into small rectangular baking dish.
Spoon potatoes over meat evenly.
Bake for 30+ minutes or until potatoes are light golden brown.
Serve immediately.