Pamela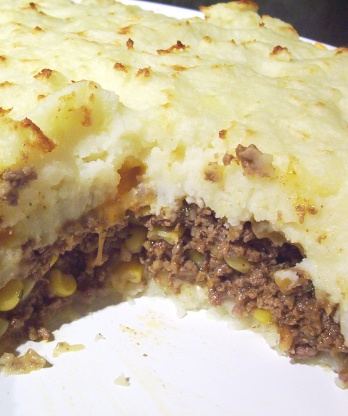 My 6 year old daughter says this is the best thing she's tasted in her whole life ! That's high praise from a normally fussy child, so this recipe is definitely a do-over.

This was a great base recipe!! I added onions and garlic to the beef when I put in the corn & taco seasoning. I felt the beef was a bit dry for my DH's liking so I added about 1/3 cup beef gravy and some red pepper paste to increase the heat. I already had the pots boiling so I left the beef on low heat while I mashed the potatoes which I did as I normally do - sour cream, butter, roasted garlic, salt, pepper, and left over boiling water to make it the right consistency. After I had it all assembled I spinkled cayenne and garlic salt on top. My husband had two servings and will also enjoy eating the leftovers later this weekend. Thanks for a great dinner!!
Brown and drain ground beef.
Add taco seasoning to taste [we prefer a less spicy mix, so I only use half the envelope].
Add corn.
Meanwhile, boil potatoes until tender, then mash.
If you like, you can add butter and milk.
Spread about one third of the potatoes in a round 2 quart casserole dish.
Top with the ground beef mixture, then the cheese. Finish with the remaining potatoes.
To use right away, bake at 350 about 30 minutes.
To freeze, cover and freeze until solid. Lift out of casserole dish and wrap in foil. Place in zipper bag, label with name and date. Use within 3 months.
To reheat, unwrap and place in original dish, defrost completely. Bake at 375 for 40-45 minutes.