Bergy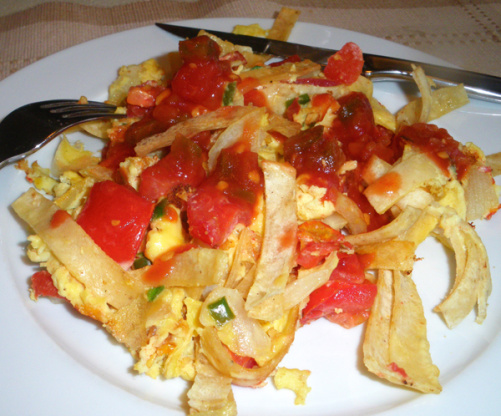 We use to have breakfast at church two days a week and took turns cooking, this was a regular of mine. Serve with refried beans and garlic toast.

Top Review by Bergy
I cut the recipe back to 2 eggs - no problem. Deluxe version of this recipe would be to serve it with some sour cream, avocado, cheese & Salsa - I controlled myself and just added some salsa. It would be delicious with refired beans Mmm Lovely Sunday brunch dish
Heat half the oil and saute the tortilla strips.
Drain.
Heat remaining oil in skillet and stir-fry the chopped tomato, onion and green chile 30 seconds.
Put tortilla strips back into the skillet.
Pour beaten eggs into the skillet over other ingredients and cook, stirring often, until mixture sets.