Bergy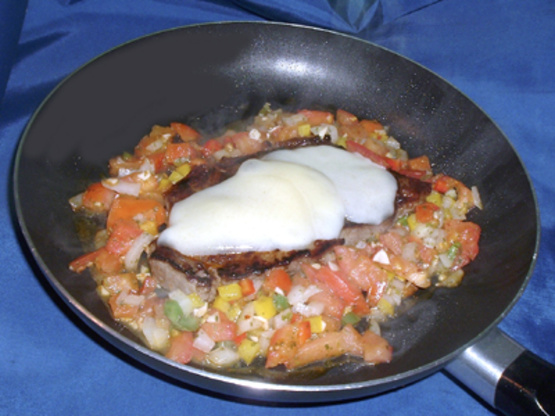 I wanted my steak to have a bit of zip so made up this recipe. I did enjoy it! I used Fresh Cut Salsa Fresh Cut Salsa but you may use the Salsa of your choice - It should be fresh salsa though not canned. I made the recipe for 4 steaks but it is very easy to cut it back to one or two steaks - Do not use less than 1 cup of Salsa. The best cheese to use would be an unpasterized Mexican Farmers Cheese, Provencal, Mazzarello, or American Jack. The softer cheeses will be best not cheddar etc.
4

grilling steaks, 4-6oz (Standing Rib, Top Sirloin etc)

6

teaspoons adobo seasoning, spice

2

cups salsa, Tomato
salt, Pepper to taste

8

slices cheese, 1/8-inch thick see suggestions for type of cheese in the introduction
Sprinkle the Adobo spice on both sides of the steak and rub it in well, Season with salt & pepper let the steaks rest 1-2 hours.
Heat a heavy skillet over High heat, if necessary add a light spray of Veggie oil to the pan.
Fry the steak for apprx 2 minutes each side (depends on the thickness, my steak was just over 1/2" thick).
Turn heat down to medium.
Place the cheese slices down the center of the steaks, pour salsa around the steaks, cover and continue cooking until the cheese has melted.
Serve with plain rice or pasta with the salsa from the steaks poured over top as a sauce.