PaulaG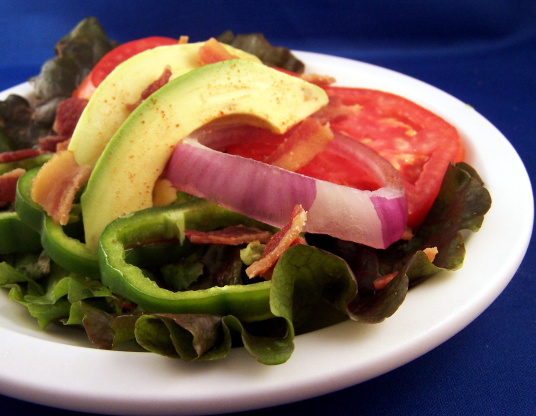 A zesty twist on an old favorite from the Southwest chapter of the United States Regional Cookbook, Culinary Arts Institute of Chicago, 1947.
Top Review by PaulaG
A nice salad to serve with a Mexican themed dinner. I used 2 green bell peppers, 2 medium tomatoes and only a few onion slices for 4 individual servings sitting on top of red leaf lettuce. I decided to use a white wine vinegar which had just the right amount of tartness. I did add a couple of avocado slices to the finished salads. Thanks Molly!
Slice or chop peppers, onions and tomatoes; arrange attractively on lettuce leaves.
Dice bacon and fry until crisp; add chili powder, salt and vinegar and bring to the boil.
Pour over salad and serve at once.