Bergy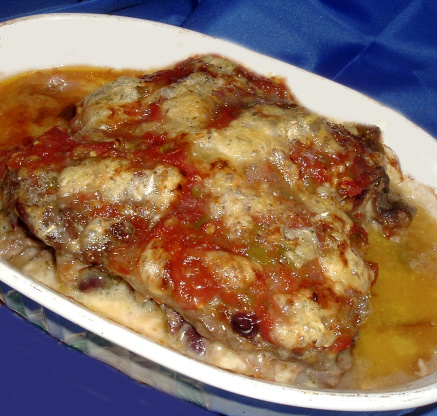 What do you mean there is no such thing as a Mexican Rouladen? Of course there is I just invented one. I recommend that you use Di's Refried Beans for the Fried beans -Serve with a crisp salad. This is a recipe that you can do ahead and just pop in the oven 45 minutes befor dinner SOOOOO Easy

I've tried several rouladen's before but never a mexican version... I think I just found my favorite version. Normally I adjust recipes to our preference but didn't have to on this one, just cut back the avocado & sour cream we added at the end. Very tasty with our favorite salsa & a great way to use up the homemade refried beans I had. Thanks for sharing.
4

rouladen beef (thin slices of beef already prepared by your butcher)

473.18

ml refried beans

354.88

ml salsa, hot,medium or mild

473.18

ml monterey jack cheese or 473.18 ml other favorite cheese

236.59

ml sour cream (optional)

2

avocados, peeled,pitted & sliced (optional)
Pound the rouladen to make them tender, don't beat them to death just a few taps.
Lay them out on a cutting board and spread 1/2 cup of refried beans and 2-3 tbsp cheese on each.
Roll up each roulladen and fasten with a toothpick.
Place them side by side in an oven proof casserole dish, pour over the salsa cover with foil.
Bake in 375F oven for 30 minutes.
Uncover, sprinkle on the remaining cheese.
Return to oven uncovered and continue baking for another 15 minutes.
Serve with sour cream& Avocado slice on top.