Mexican Roasted Garlic & Broccoli
PaulaG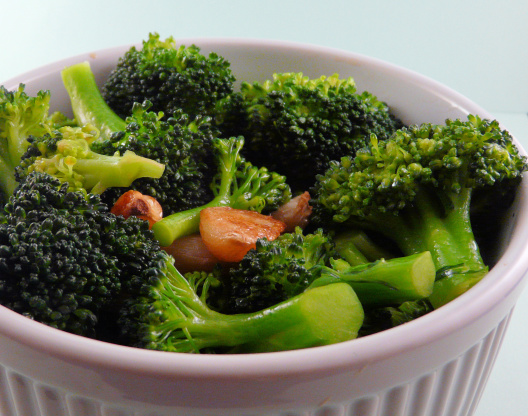 This is a very tasty dish, don't be afraid of the garlic! Serve this as a side dish withCarne Asada (there are loads of recipes for Carne Asada here on Zaar)

I was afraid of the amount of garlic, but it really was good. I am always looking for low cal veggie recipes, and this is definatley a winner!
Lightly oil a 8-10" square baking pan.
place the garlics cloves in the pan and mix in the olive oil.
Bake at 475F until the garlic just begins to brown (don't over do it) apprx 20 minutes.
While the garlic is roasting bring a large pot of water to the boil (large enough to hold the broccoli).
When the water is boiling add the broccolic and cook for 3-5 minutes.
You want the broccoli heated through but still very crisp.
Drain and put the broccoli in ice cold water, drain and do it again.
In a shallow bowl mix the soy& sesame oil, mix, add to the garlic and stir.
Toss the broccoli with the garlic mixture.