Pam-I-Am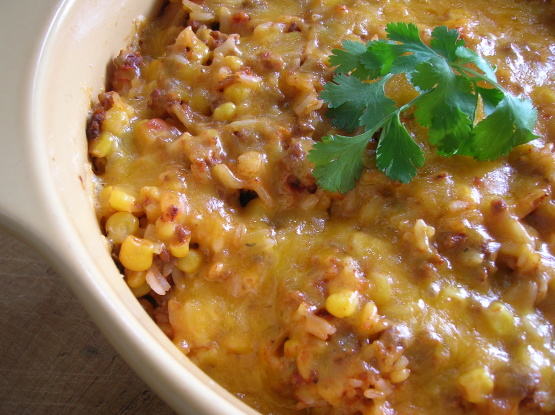 A great way to use a pound of ground beef and make a dinner that all will love. It's so easy too! If you cannot find Mexicorn by Green Giant, you can use a regular can of corn or frozen corn. To control the heat of the dish, you can choose mild, medium or hot salsa!

This is an easy recipe for a quick dinner! I did not use the corn salsa, since I did not have any in my cupboard. I subbed the salsa for Diced tomatoes with green chilies. For my sides: Corn bread and Jalapenos Poppers! Yum!
Place the 2 cups of water and long grain rice in a medium sauce pan and bring to a boil. Reduce heat to a simmer, place a lid on, set timer for 20 minutes and cook rice until done.
Preheat oven to 350°F.
In a skillet, brown ground beef and drain. Place in a large mixing bowl.
In large mixing bowl, add the jar of salsa to the ground beef. Also add chili powder, Mexicorn, rice and salt. Mix with a wooden spoon until combined well.
Spray a 2 quart casserole dish. Put rice mixture into dish. Cover with a lid or foil and bake in preheated oven for 30 minutes.
At 30 minutes, take off lid/foil. Add shredded cheddar cheese evenly over top and bake for an additional 5 minutes.
Remove from oven and serve.