PaulaG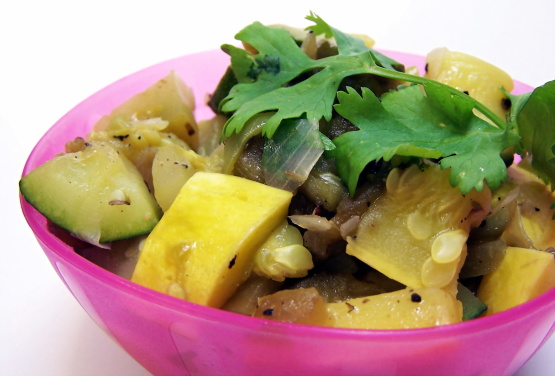 Jalapeno pepper and cilantro give this ratatouille a south of the border taste. It travels very well! Adapted from the New Basics Cookbook by Julee Rosso & Sheila Lukins.
Top Review by PaulaG
This is a great way to use those fresh garden veggies. I did not have a jalapeno pepper so I used some fresh roasted chile that was peeled and chopped. Being the garlic lover that I am, I peeled several cloves and added to the veggies instead of the lonely cloves. I did cook this dish about 20 minutes instead of the 30 suggested and the squash was crisp tender.
2

tablespoons vegetable oil

1

medium onion, chopped

2

(6 ounce) yellow squash, cut into 1/2-inch cubes

2

(6 ounce) zucchini, cut into 1/2-inch cubes

1

teaspoon dried oregano
3⁄4 teaspoon salt
1⁄2 teaspoon cumin

2

garlic cloves, minced
pepper, to taste

2

firm green tomatoes, diced
1⁄2 fresh jalapeno pepper, minced

1

fresh mild chili pepper, minced (optional)
1⁄4 cup cilantro, chopped
1⁄4 cup cilantro, chopped
Preheat the oven to 350*F.
Heat the oil in a large skillet, and saute the onion for about 4 minutes on medium heat. Add the yellow squash, zucchini, oregano, salt, cumin, garlic, and black pepper. Saute 5 minutes, stirring often.
Stir in the tomatoes and chile peppers. Transfer the mixture to an oven proof 2 1/2 quart casserole, cover, and bake for 30 minutes.
Stir in the cilantro, and serve immediately or let cool to room temperature. Enjoy!