Mexican Quinoa With Pepita-Cilantro Sauce
Maito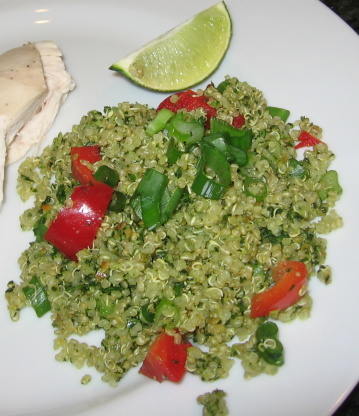 I found this recipe in the December Food Section of the newspaper, highlighted as one of the top recipes of the year. It is from The New Whole Grains Cookbook by Robin Asbell. I absolutely loved it, and couldn't stop eating, long after I was full. I always wash quinoa in five changes of cold water, draining between each wash, to be sure to get the bitter coating off, and use Quinoa-Toasted before cooking any recipe using this grain. If you have pre-toasted quinoa on hand (as I usually do), and buy toasted, unsalted pepitas from the bulk food store (as I usually do), you can make this recipe in the time it takes the quinoa to cook...very fast, delicious, and nutritious.
This is an excellent, really flavourful side dish served hot, but is equally delicious the next day converted to a cold salad. You can add other diced veggies (cucumber, avocado, corn) and finely chopped kale and turn the leftovers in a hearty lunch salad.
In a small pot, bring water to boil over high heat. Add quinoa. Return to boil. Reduce heat to lowest setting; cover. Simmer 15 minutes. Water should be absorbed. Fluff with a fork. Let stand, covered, 5 minutes to finish steaming. Transfer to a bowl. (I usually cook my quinoa, after toasting, in the microwave with the 1 1/2 cups of boiling water from the kettle, covered, for 12 minutes on medium-low -- about the same time it takes to cook basmati rice in my microwave).
Meanwhile in a small skillet over medium-high heat, toast pepitas, shaking pan often, until they begin to pop and are fragrant and just starting to brown, 3-5 minutes.
Transfer to food processor or blender. Add cilantro, garlic, jalapeno, salt and cumin. Process, scraping sides frequently, until well-minced. With machine running, gradually add oil, then lime juice, processing until as smooth as possible, and scraping down sides as needed.
Stir pepita mixture, bell pepper and onions into quinoa. Stir well.
Serve warm. Pass lime wedges separately, if desired.