mp7nyc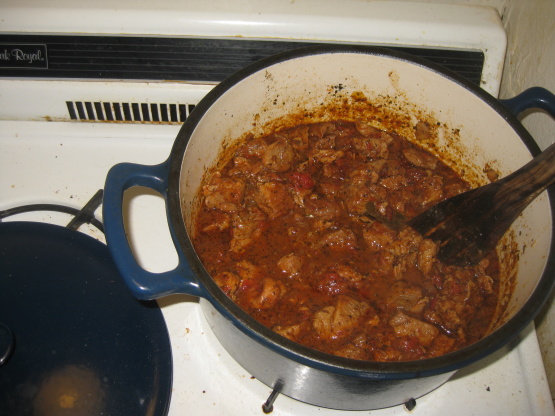 My favorite easy way to cook pork for burritos or taco filling. I prefer using a slow cooker for this so I don't have to watch it. If you do it on the stove top, be careful not to burn it. Simmer slowly, stir frequestly. It will take about 3-4 hours on the stove or 6-8 in the crockpot.

Top Review by mp7nyc
Had to do it on the stove top for times sake. Awesome flavor. My improvisations included cooking it on the dutch oven with lid on during simmering, thus no added water and reduced the stove top time to 3 hrs of simmering. Gave it a tsp of salt, a tsp of Mesquite (Liquid), and a tsp of Chili Powder. Also, for the peppers I used 3 Chipotle peppers in adobo sauce. Everyone loved it at the party although if you don't like food with some heat reduce the Peppers and Chili Powder, cuz this stuff definitely produced some heat.
Heat oil in large pan until hot.
Add pork, stir until browned.
Add onion, garlic and chilies, cook and stir until onions are tender.
Add all spices and stir.
Add enough water to just cover meat.
Put in crock-pot on Hi for 6-8 hours until meat shreds. (You can help it by pulling meat apart with forks or by pressing meat onto side of pan when almost done.).
If not using crock-pot, simmer on top of stove on low heat for 3-4 hours until meat shreds, adding more water if needed to prevent sticking.
Serve with taco shells or as burritos with beans, sour cream, guacamole, etc.