Mexican Potato Corn Cakes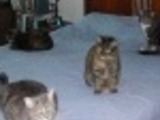 Based on a recipe my BF asked me to make, we both liked this a lot! Altered to use real mashed potatoes. You can either use leftover mashed potatoes (2 cups), or replace the milk and potatoes with 2 cups milk and 2 cups dried potato flakes to save time. Has a mild but pleasing Mexican flavor that I think kids should like. I served this as a vegetarian main dish with a vegetable medley side of carrots, broccoli and red peppers.
Directions
Boil 2 quarts water and add sliced potatoes. Boil 15 minutes. Remove with slotted spoon and put potatoes through ricer. Add 1/4 cup milk to potatoes and mix well. Should make about 2 cups mashed potatoes.
In large bowl, combine mashed potatoes, corn, chiles, cheese, flour, corn meal, seasoned salt, oregano, garlic powder and pepper. Mix well. Beat egg with 1/4 cup milk, add and mix well.
Heat non-stick skillet over medium low heat. Drop in 2 teaspoons butter. In batches, drop potato mixture onto skillet, 1/4 cup at a time, four times per batch. Carefully form into 3-inch rounds. Cook about 7-8 minutes, until golden brown, turning once.
Repeat 3 times. Place finished cakes onto cookie sheet and keep warm in 225 degree Fahrenheit oven. Serve with hot sauce on the side, if desired.
Reviews
Most Helpful
Loved, loved, loved this recipe! Made it as part of DD Prom night after the March...We had Mexican night! Added some green onions chopped...tripled the recipe with no problems. I will make this again for sure! Rave reviews from all my guests! Thanks for posting! Made and reviewed for Zaar Chow Hounds ZWT 5.

We liked this ALOT. But I did have a problem getting it not to stick and be seperate "cakes". I cooked it as one BIG cake. It took a little while, but all in all it was good. Made for ZWT5. UPDATE MAY 15,2009-While I was cleaning this morning, I found the egg/milk miXture in the icebox, that I had forgotten to use. That would have made ALL THE DIFFERENCE IN THE WORLD. So,I'm giving it 5 stars because it was MY MISTAKE and the taste was SUPERB.

This recipe was good but hard to cook properly even with the non-stick pan. The taste was bland for us even with the added green chilies. Sorry we cannot rate it higher. Thank you for posting this recipe. Made for ZWT 5.