Prep 45 mins
Cook 35 mins
This is a good casserole for a crowd or a potluck. The recipe was a $200 winner in a casserole contest.
Directions
preheat oven to 375°F.
In a skillet cook onion, sweet pepper,and garlic in 1 tablespoon hot oil until tender.
Add turkey, chili powder, cumin and cayenne.
Cook until turkey is no longer pink, stirring to break up meat.
Add beans, undrained tomatoes and salsa.
Bring to boiling; reduce heat.
Simmer gently 15 minutes.
Meanwhile, grease a 3-quart rectangular baking dish with the remaining 1 tablespoon oil.
Cut 1 tube polenta into 1/2-inch cubes; press evenly into prepared baking dish.
Halve remaining polenta lengthwise and cut into 1/2-inch thick slices; set aside.
Sprinkle 1 cup of cheese over polenta in dish.
Top with meat mixture.
Arrange sliced polenta over meat; sprinkle with remaining cheese and fresh tomato.
Bake, uncovered, for 35 minutes or until bubbly.
Sprinkle with cilantro.
Let stand 15 to 20 minutes before serving.
Makes 12 servings.
Most Helpful
I also substituted veggie crumbles from Morningstar for the turkey. We only had enough polenta for the top, it was still delicious! Thank you!
WOW! WOW! I halved this recipe and cooked it in a 9" round casserole dish and made it Vegetarian... AWESOME! I changed a few things- Instead of green pepper, I chopped 2 Jalepenos, Regular oil instead of Olive, No Turkey, No diced tomatoes, just 1 thing of Medium salsa instead, and there was no need for cayenne pepper since I subbed the salsa and jalepenos for heat. Also, I didnt do the fresh tomatoes on top, and I used a Cheddar/Jack Mexican mix cheese and my Boyfriend and Mom LOVED it! I will definately make again! Thanks so much.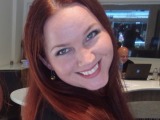 This was a surprisingly tasty dish! When I looked at the ingredients it didn't seem as though the end result would be anything special. I did make a few changes--so minor that I don't think it would matter. I used ground pork instead of turkey, only used 2 TB of cumin and added 1/4 tsp of ground Jalapeno powder and I left out the green pepper. I topped it with the tomato called for but also added green onions. It came out with lots of flavor and I will definitely be making this again! Thanks for sharing.