berry271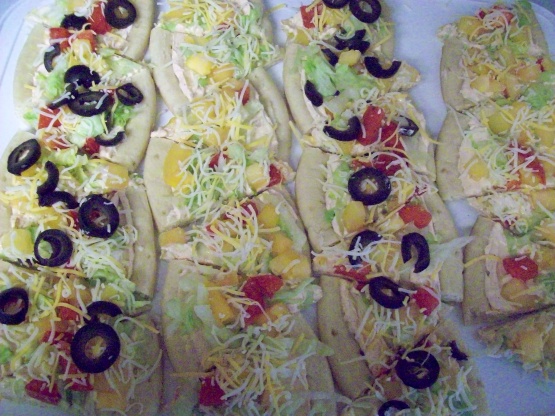 Yummy little Mexican Pizza appetizers made with refrigerated crescent rolls. These little bites include ground beef, cream cheese, sour cream, black olives, tomatoes, shredded lettuce and a blend of cheeses. From TOH Parties, Potlucks and Barbecues. Prep time does not include chill time.

Fun appetizer. I made this quite a while ago, and just saw the pic on my camera and wanted to upload. I did change some things. Didn't use any ground beef (wanted to serve cold and wasn't sure I would like the beef cold) and so I mixed the seasoning into the cream cheese. Also used prepared mini pizza crusts and cut into tiny slices to serve as appetizers. Very cute.
Unroll crescent roll dough and place in an ungreased 15 x 10 x 1-inch baking pan. Flatten dough to fit the pan, sealing seams and perforations.
Bake at 375 degree F for 8-10 minutes or until light golden brown; cool. In a small bowl, blend cream cheese and sour cream with a wire whisk; spread over crust. Chill 30 minutes.
Meanwhile, in a large skillet, cook beef over medium heat until no longer pink; drain. Stir in taco seasoning. Add water according to package directions and simmer for 5 minutes, stirring occasionally. Spread over cream cheese layer. Top with lettuce, olives, tomatoes and cheeses.
Cut into serving size pieces. Serve immediately or refrigerate.