Redsie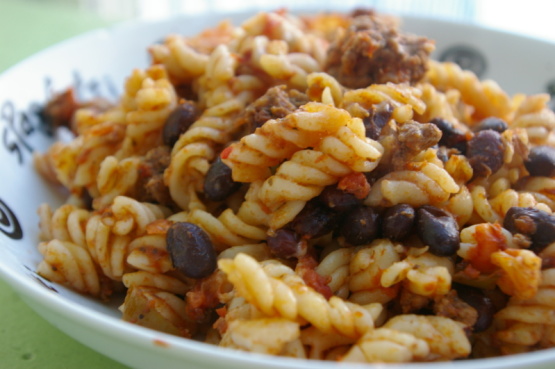 Easy, one dish meal. Got this off of the back of the pasta box and changed it a bit to fit our tastes. I seem to be on a Mexican kick lately.

Top Review by Fauve
How can so few ingredients yield such a delicious meal? This is almost magical. A bit of time browning ground beef and boiling noodles, and just toss in the rest! Ole' Mexican flavored pasta! Not only is this a great tasting dish, but very a very eye-pleasing one as well; textural.... I just made this tonight, and as I speak (type?), my family is sitting in front of the television now, rubbing their full bellies! We will have this again soon, but next time I'll be sure to have a carton of sour cream ready. This dish nearly begs for a dollop of sour cream. Thanks Karen for a perfectly delicious dinner!
Heat oven to 350°.
Brown ground beef in a skillet and drain.
Combine beef, pasta, salsa and beans in a large bowl.
Spread half of mixture in a 9x12-inch baking dish and sprinkle with half of the cheese.
Repeat layers, cover and bake for 35 to 40 minutes.