flower7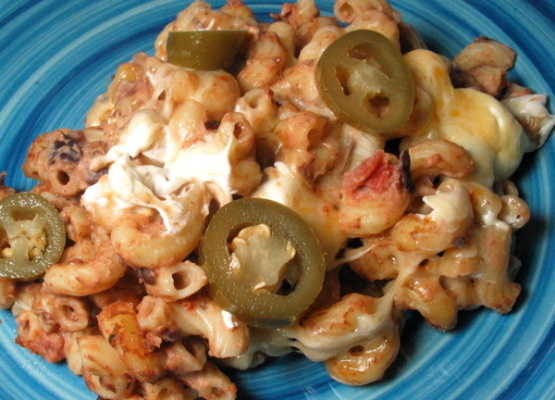 I threw this together while craving Mexican and pasta at the same time. Turned out great! Hope you enjoy!

This is very good! I used refried black beans and light cream cheese & sour cream. Used only about 1/4 tsp of hot sauce, cumin & chili powder, and added a dash of Mexican oregano. I left the jalapenos off when baking but served with pickled jalapeno slices. This makes a ton - I'd say it's at least 6-8 servings unless you are serving lumberjacks! lol Thanks for the recipe!
Preheat oven to 350°F
Cook macaroni until al dente; set aside.
Sauté garlic in 2 Tbsp olive oil about 30 seconds on medium heat. Add jar of salsa and bring to simmer. Add in can on refried beans a dollop at a time. (I used wire whisk to whisk in). Add hot sauce to taste. If too thick at this point add a little bit of water. I actually put some in the same jar as the salsa and got the extras out. Simmer 10 minutes.
Add 4 oz of the cream cheese in dollops (again using wire whisk to blend in). Once the cream cheese is blended, add the cup of sour cream and stir. Sauce will be thick and creamy. I added a dash of cumin and chili powder--your preference on the spices.
Spray casserole dish and add in pasta. Stir in sauce mixture until blended. Top with dollops of remaining cream cheese. Sprinkle with shredded cheese and top with jalapeño slices.
Bake covered with foil 30-40 minutes Enjoy!