Redsie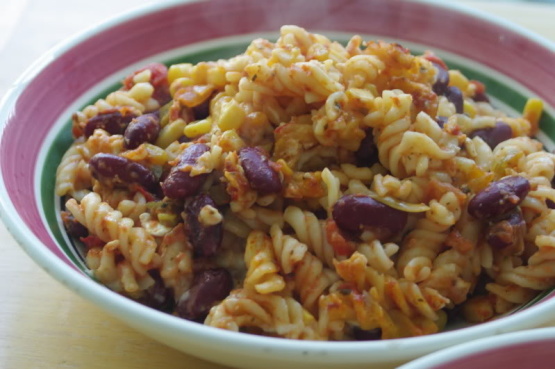 This will fit the Core or Flex plan of Weight Watchers. This could be made ahead or can be fixed in about 40 minutes. Great for a busy evening.

This was an awesome recipe! It tasted like tacos in a dish. I used pinto beans instead of black beans since that's what I had on hand, I added a Tablespoon of diced green chilies and I used cottage cheese instead of ricotta. The only complaint I had (and it's not even really a complaint) is that the juice from the diced tomatoes made it fairly watery so I think I'll drain them next time. But there's no way that this took away from the taste! I will make this again and again! Thanks for posting.
Preheat oven to 425*.
Spray 7x11 baking dish with cooking spray.
Blend together onions, tomatos, taco mix and black beans.
You can use the food processor if you prefer a smooth.
sauce.
Spread 1 cup of tomato mixture on bottom of pan.
Add cooked pasta.
Dot with ricotta cheese and then spread ricotta over pasta mixture.
Stir ground beef into remaining tomato mixture.
Spoon over ricotta.
Sprinkle with cheese.
Bake 25-30 minute.