Mexican Pasta and Black Beans (Vegetarian)
Redsie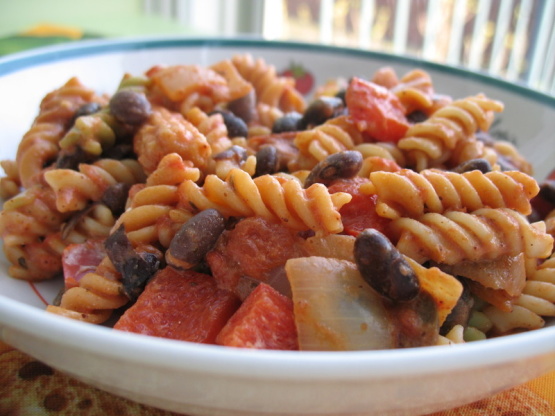 This is a tasty Mexican-style tomato-based pasta dish, if you don't want a creamy taste then omit the cream cheese. All ingredient amounts may be adjusted to suit taste. Cooking time does not include cooking pasta. For extra heat add in chili flakes to taste see Kittencal's Taco Seasoning Mix or use packaged

Very tasty recipe. I made a couple of minor changes, I added an 8 ounce can of tomato sauce and instead of cream cheese stirred in about a half cup of sour cream. Topped with cheddar and served with cornbread and salad for a very yummy weeknight meal.
Cook the pasta in a large pot of boiling salted water until al dente; drain and set aside.
In a large skillet heat oil over medium heat; add in onions, red or green bell pepper and jalapeno pepper; saute for about 3-4 minutes.
Add in garlic and saute for 2 minutes.
Add in corn, diced tomatoes (with juice) salsa, olives and taco seasoning; simmer uncovered for about 30-35 minutes (you can simmer longer if desired) stirring occasionally.
Add in cream cheese, stir until heat through and combined.
Add in black beans and cooked pasta, stir until combined and heated through.
Season with salt and black pepper to taste.
Top with grated cheddar cheese if desired.