2 Reviews
Hey! I thought we were the only ones who called stuff Mexican Mush! Seriously, I make recipes like this regularly and since I can't usually recall the name of whatever I've made, I started calling things 'Mexican Mush' or 'Italian Mush' or 'New Orleans Mush (jambalaya)- and since I'm always messing with the ingredients of recipes, they often don't resemble their original version, which makes the original name sort of meaningless.

I like how you kept this vegetarian and pretty low fat. I had not thought to add jarred black bean dip to my Mexican Mush, so I'm off to do that today. I don't have to wait til it's done to rate it, I know we love it. Thank you for posting!

This may not be the prettiest food, but it sure tastes good! Satisfying for anyone with a craving for Mexican, though mine was a little different since the bean dip had balsamic vinegar in it and the refried beans were flavored with lime. I used fresh spinach instead of frozen defrosted. It took over 15 minutes to warm up, more like 30. I added extra hot sauce:D Thanks Dr. J!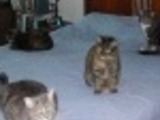 Mexican Mush