Mexican Morning Potato Pie
Debbwl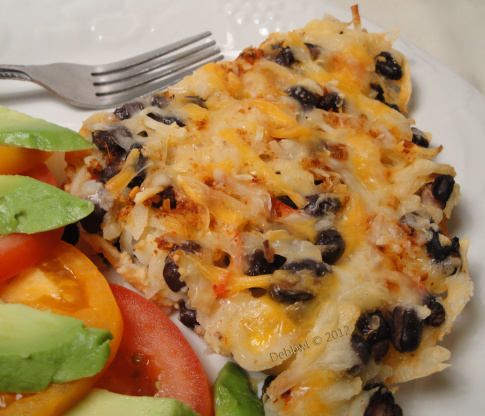 Ready, Set, Cook! Special Edition Contest Entry. Crispy on the outside and creamy on the inside Mexican Potato Pie to make your morning lively with Simply Potatoes Shredded Hash Browns, black beans and taco seasoning.

Top Review by Debbwl
A nice easy southwest brunch! I did double the taco seasoning and am very glad I did, also there was no baking temperature listed so baked at 350 F for 40 minutes. As promised it had a nice crispy outside with a soft tender center. Made a light sauce of sour cream flavored with some of the left over taco seasoning to serve alongside. Thanks for the post.
1

large egg, beaten

59.14

ml milk

3.69

ml taco seasoning, divided

283.49

g package Simply Potatoes® Shredded Hash Browns

236.59

ml canned black beans, drained and rinsed

59.14

ml red pepper, small-diced

236.59

ml Mexican blend cheese, shredded divided
With non-stick spray, coat a 9 inch round glass pie plate then set aside.
In a large mixing bowl, combine the egg, milk and 1/2 teaspoon of the taco seasoning then stir to combine thoroughly. Add the Simply Potatoes Shredded Hash Browns, black beans, red pepper and ¾ cup of the cheese; mix well. Spread mixture onto the pie plate, gently press down and top with the remaining 1/4 cup of cheese. Sprinkle the remaining 1/4 teaspoon taco seasoning over the cheese.
Bake for 40-45 minutes just until the cheese melts and the center is hot. Remove to a wire rack and cool for 3-5 minutes, cut into wedges and serve.