David04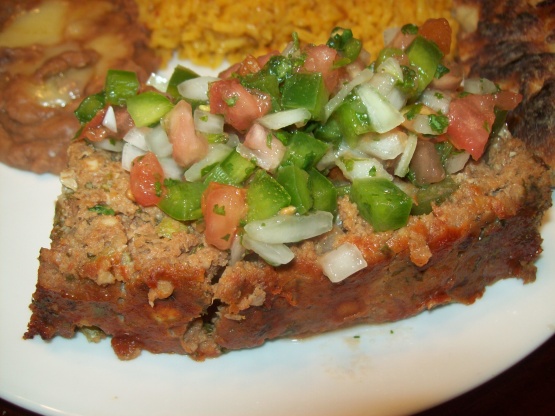 A healthy meatloaf with tex-mex flare topped with homemade pico de gallo. Just to give some variety to my meatloaf.
Heat oven to 350°F.
To make the Pico de Gallo, chop onions, green pepper, tomato and 1/2 of the cilantro and mix in a bowl with the lime juice and set aside.
Combine the Ground Beef, remaining Cilantro, 1 cup of Pico de Gallo, Egg White, Oatmeal, Pepper, Seasoning Mix and 2 tablespoons of the Salsa into a large bowl.
Pat into a 9 x 5 loaf pan. Bake 50-55 minutes.
Serve topped with the remaining Pico de Gallo.