Ycooks2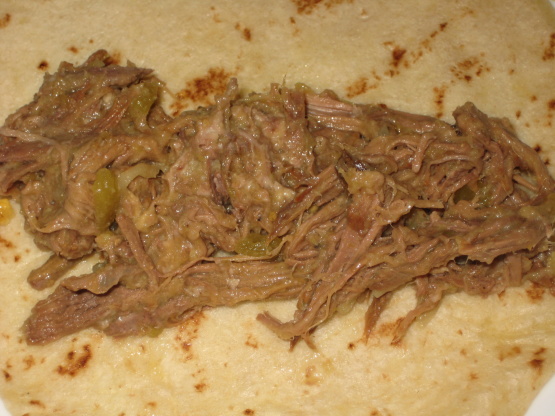 Kerry made this first - Makes Sour Cream Enchiladas, and lots of other things, get creative.

Whenever there is roast on sale there is a pot of mexican meat on the stove. Freezes very well. We can eat on it for a couple of days. Whatever is left over I package in a suitable size that my husband can pull out of the freezer and make himself soft tacos. This is a recipe from Make-A-Mix cookbook. I have used it for several years.
Preheat oven to 375°F.
Place roast in large roasting pan or dutch oven. Do not add salt or water. Cover with tight lid and roast 8 to 10 hours until well done. Or cook with 1 cup water in pressure cooker for 35 to 40 minuets. Drain meat reserving juices. Cool meat, then remove bones. Shred meat and set aside.
Spray large skillet with Vegetable cooking spray. Saute onions and green chillies for 1 minute. Add Green Chillie salsa, Garlic Powder, flour, salt and cumin. Reduce heat and cook 1 minute. Stir in reserved meat and meat juices. Cook minuets until thickened. Cool.
Put about 3 cups mix into three one quart freezer containers, leaving 1/2 inch space at the top. Seal and label containers with date and contents. Freeze. Use withing about 6 months. Makes about 9 cups.