Parsley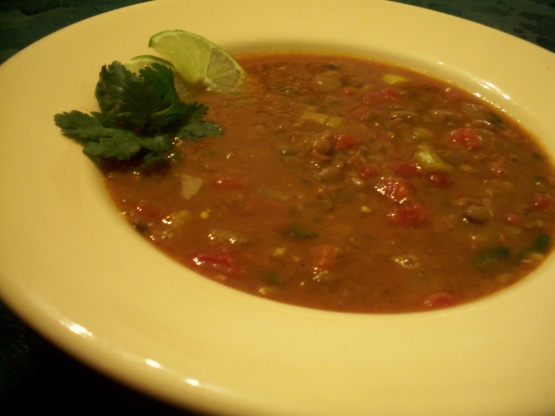 cheap recipe! from "Budget Bytes" - http://budgetbytes.blogspot.com/2009/12/mexican-lentil-stew-923-recipe-077.html

Very fast, very easy, pretty cheap ingredients too. I did enormously increase the chili powder involved, as well as adding a few more spicy touches, and it was still a bit on the bland side (though the garlic helps). I will tinker with the spices more later, but this is an excellent starter recipe to suit most tastes, and fits any dietary restriction.
In a medium pot, bring the 2 cups of lentils and 4 cups of water to a boil. Once it reaches a boil, turn off the heat and let sit with a lid on for about 20 minutes.
While the lentils are cooking, begin the stew. Finely dice the onions and cook over medium heat in 2 Tbsp of olive oil. While the onions begin to cook, finely dice the garlic and add to the pot. While the onions and garlic cook, finely chop the celery and then add to the pot.
Cook the onions, garlic and celery until they are soft but not brown. Add the cans of diced tomatoes, vegetable broth, turmeric, cumin, chili powder and the hot sauce. Continue to cook over medium heat until hot.
At this point, the lentils should have absorbed the water and become soft. Add the lentils and any remaining water to the soup mixture. Stir well and slightly mash using the back of your spoon.
Once the entire mixture is hot, add a handful of chopped cilantro and taste test to see if you want any more heat (hot sauce) or salt and pepper.
You can either add the juice of lime to the pot or serve the bowls of stew with a wedge of lime. I like the wedge of lime because it makes for a pretty presentation and that way people can choose whether or not they want it.