day-hee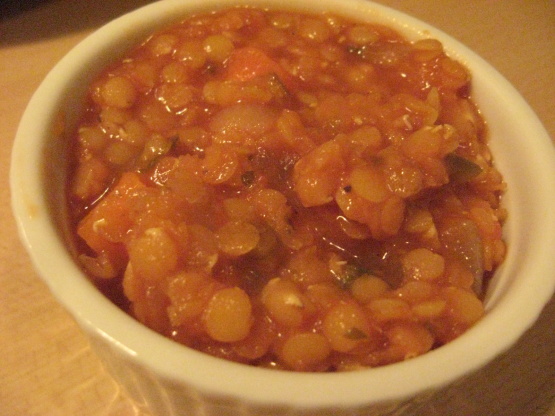 Only 6 ingredients! Add your favorite toppings for a hearty one-bowl meal. Very healthy, lots of fiber!

Simple, healthy and delicious! I halved the recipe (only cooking for myself), used red lentils, hot salsa and added some chopped jalapeno peppers because I wanted a spicier soup. With fresh ground pepper and a few dollops of plain yogurt, it was amazing!
Heat oil in dutch oven or large soup pot over medium heat.
Add onion and carrot; cook and stir 3 to 4 minutes.
Add water, salsa and lentils. Bring to a boil.
Reduce heat, simmer 30 to 40 minutes or until letils are tender.
Serve by placing in a bowl and topping with a dollop of sour cream, sliced black olives, chopped green onions or corn chips. Be creative!