Justmez2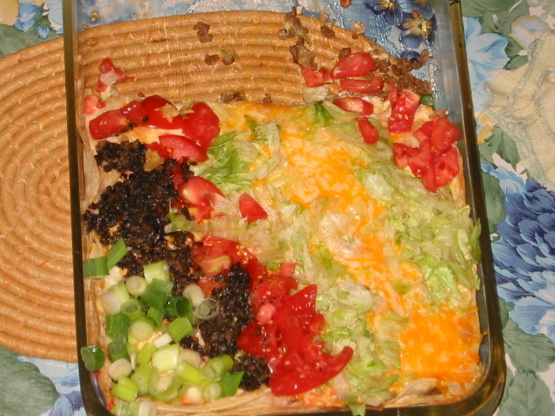 My family always thinks this is too pretty to cut into and want to take a picture. Me, I just grab the serving spoon and dig in. This is from J. Bennet from Minden, LA cut her recipe from a "Country Home." But I've added a bit of ZIP! Very colorful dish!

I thought that this was good. I did layer just a little differently: tortilla, meat, cheese mixture, tortilla, meat, shredded cheese. I didn't put on the vegetables because I knew that we would be eating this as leftovers and it wouldn't heat very well with the lettuce, tomatoes, etc. on the top. BTW it was good the second time.
Brown ground beef; drain thoroughly.
Add cumin, chili powder, garlic powder, red pepper, salt, pepper and tomatoes with green chilies heat through.
Spray 9 x 13x 2-inch baking dish and place tortillas around sides and bottom.
(Keep tortillas from sticking up to much over the sides-during baking they'll get tough.) Pour beef mixture over tortillas; place a layer of tortillas over meat mixture and set aside.
Combine cottage cheese, Monterey Jack/Colby and egg; pour over tortillas.
Bake at 350 degrees for 30 minutes.
Remove from oven; sprinkle rows of cheddar cheese, lettuce, tomatoes, green onions and olives diagonally across center of casserole.
(Center is cheese, lettuce, tomatoes, green onions and black olives on each side.) Serve with sour cream and salsa of your choice.