Rita1652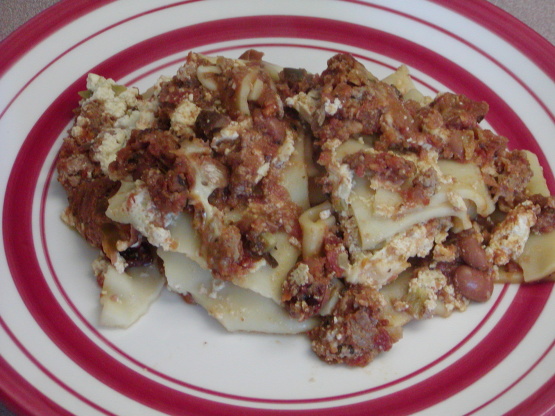 Not your same old Lasagna! Give Life a Kick! Try This! I've made this also with 3 chopped chipotle peppers in adobe sauce added to the cooked beef.

Excellent! Used hot salsa, couldn't find plain monterey jack so substituted pepper jack. Baked in oven for 30 minutes at 375. Made 2 recipes, took one to work and one for home, both were gone in 2 days. BTW, 2 cups of ground beef works out to 1lb. After browning 1lb will just crown a 2-cup measure.
Spray crock pot with non-stick cooking spray.
Mix pinto beans with the spaghetti sauce.
Mix together ricotta cheese, egg, cilantro, and chilies.
Cook lasagna very Al dente noodles, drain and cut up.
Mix Beef, sauce and salsa together.
Spread a little sauce mixture in the crock pot (enough to cover).
Then place 1/2 of the noodles, 1/2 of the ricotta mixture, 1/2 of the sauce, and 1/2 of the Monterey jack cheese.
Repeat layers with the rest of the ingredients.
Cook on low for 6.