Prep 10 mins
Cook 15 mins
For 5 pts per 1/6. Very good, and good Mexican flavor
Directions
Preheat oven to 400°F.
Combine first 7 ingredients in a bowl.
Place 2 tortillas in an 11 x 7 inch baking dish coated with cooking spray.
Spoon half of corn mixture over tortillas.
Top with 3/4 cup cheese.
Repeat layers, ending with cheese.
Bake for 15 minutes.
Let stand 2 minutes, then top each serving with 1 tablespoon sour cream.
Most Helpful
Good. A nice healthy dinner that's quick to fix. My son enjoyed it which is rare. We found, though, that it needed some spicing up. I would use salsa instead of canned tomatoes next time. Thanks for sharing!

Agreed, a good Mexican flavor made healthier with corn and low-fat cheese blend. I used fire-roasted crushed tomatoes and 1/4 teaspoon chipotle powder for a smokey flavor. Served with low-fat yogurt instead of the fat-free sour cream (yogurt just tastes a lot better) and lots of hot sauce on the side. Also, this held together quite well (after letting it stand for a couple of minutes). Nice recipe! Thanks.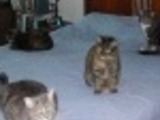 We liked this recipe, but found it lacking in flavor (I added hot sauce and cilantro at the end, but it still needed something more). Thank you though for the recipe.