Mexican Ice Cream Sundaes With Cinnamon Chocolate Sauce
AlainaF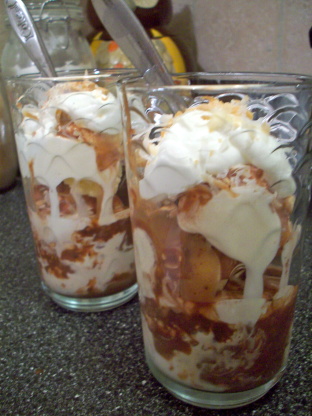 Dulce de leche ice cream is caramel-flavored. Vanilla would taste great here, too.
Preheat oven to 350 degrees.
Spread coconut on a rimmed baking sheet; toast, tossing occasionally, until brown and fragrant, about 10 minutes (store at room temperature up to 1 day).
In a medium saucepan over medium-high heat, bring cream to a boil; remove from heat.
Add chocolate, cinnamon and salt.
Let stand 1-2 minutes.
Whisk until chocolate is melted and mixture is shiny (cover and refrigerate up to 2 days; before serving, reheat in double boiler or the microwave).
Remove ice cream from freezer 15 minutes before serving.
Scoop into bowls; top with warm sauce, peanuts and coconut.