Mexican Ice Cream Sundaes With Cinnamon Chocolate Sauce
Dulce de leche ice cream is caramel-flavored. Vanilla would taste great here, too.
Directions
Preheat oven to 350 degrees.
Spread coconut on a rimmed baking sheet; toast, tossing occasionally, until brown and fragrant, about 10 minutes (store at room temperature up to 1 day).
In a medium saucepan over medium-high heat, bring cream to a boil; remove from heat.
Add chocolate, cinnamon and salt.
Let stand 1-2 minutes.
Whisk until chocolate is melted and mixture is shiny (cover and refrigerate up to 2 days; before serving, reheat in double boiler or the microwave).
Remove ice cream from freezer 15 minutes before serving.
Scoop into bowls; top with warm sauce, peanuts and coconut.
Most Helpful
Very good. I made it with vanilla ice cream and homemade whipped cream. The chocolate sauce is amazing, just make sure to cool it well beforehand or you'll end up with melted ice cream like me ;) Thanks for posting! Made for ZWT8.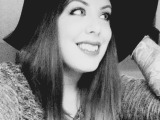 Fantastic! I made this with two types of ice cream - vanilla and coffee/espresso, and used lightly salted peanuts, coarsely chopped. I also added 1 tsp vanilla extract to the chocolate sauce. Thank you sooooo much for this delicious recipe!
These were scrumptious! I made them for my DD and her freinds, then made a small one with left overs for DS and I. I loved the flavor of the chocolate sauce - it was simple to make too. The texture of the toasted coconut is key for me. I personally didn't have the nuts tonight, but it was 1/2 and 1/2 with the kids. I did use Creme Brulee ice cream and that was fabulous with it! Thanks for yet ANOTHER keeper, Lainey!!