Mexican Hot Chocolate Cup Cakes With Cocoa Whipped Cream
pammyowl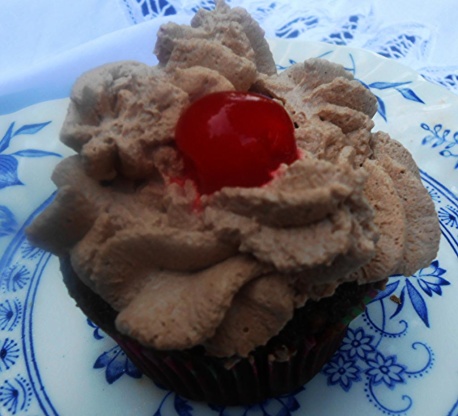 There's just something about warm spice blended into the sweet taste of chocolate – just divine. The most traditional mixture of cinnamon and chocolate I can think of is Mexican Hot Chocolate. You'll find a ton of different recipes for Mexican Hot Chocolate but in the end the important ingredients are chocolate and some kind of spice (whether it be chili powder, cinnamon or both). From: Food, Wine and Fashion. *EDIT, this recipe has been altered after talking with pammyowl and is good to go.
Preheat oven to 325 degrees.
Add sugar, buttermilk and oil to a stand mixer (or large bowl if you're using a hand mixer). Mix well. Add eggs and vanilla extract, mix well.
In a separate large bowl, sift cake flour, cocoa powder, baking soda, baking powder, cinnamon and salt.
Add 1/3 of your dry ingredients to the wet ingredients and mix until combined. Pour in your espresso mixture, blend, then continue with two more addition's of the remaining dry ingredients.
Pour blended batter about 3/4 full into cupcake pans lined with cupcake liners. Bake until the cupcakes have puffed up with a deep brown color, about 25 minutes. Let cool on a baking rack.
FILLING:.
While cupcakes are baking, using a double boiler, melt chocolate until completely smooth. Let cool. In a large bowl, mix cooled chocolate and mascarpone cheese until well blended. Scoop mixture into a piping bag.
With a knife or melon baller, carefully create a hole in the center of each cupcake. Pipe the chocolate mixture into the hole you just created, about 1½ tablespoons of chocolate into each cupcake.
TOPPING:.
Mix heavy whipping cream, powdered sugar, cocoa and vanilla in a stand mixer and whip to stiff peaks. Add to a piping bag and pipe over each cupcake in a circular motion.
Decorate with one or more mini marshmallows and pinch of cinnamon if you like.