Mexican Hot Chocolate Balls
Katzen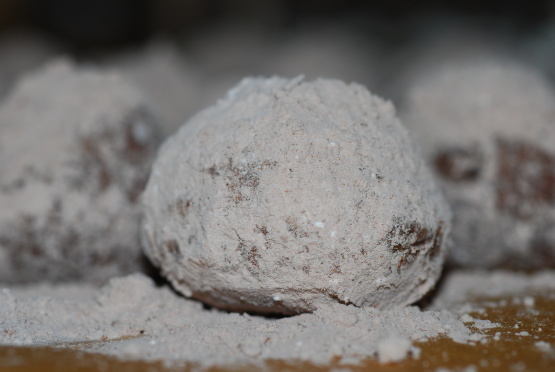 My sister made these for Christmas this year and they are really good! The recipe came from a magazine. These cookies are tender and crumbly, like Mexican Wedding Cakes, and are very chocolaty with a hint of cinnamon.

I made these for Christmas this year and loved them! They taste even better after they age a few days. I also re-rolled my cookies in the sugar mix later on. The only thing I did differently was to add a tablespoon of cornstarch to the bottom of my cup when measuring the flour. It makes the cookies more tender and we prefer them that way. Also toasted my pecans. Yummy!
Preheat oven to 325°F.
Beat butter in a large mixing bowl using an electric mixer for 30 seconds. Add in 1/2 cup of the powdered sugar, 1/4 cup of the cocoa powder, and the vanilla and mix until combined, scraping the sides of the bowl occasionally.
Add in as much flour as you can while using the mixer. Stir in any remaining flour, 1/2 teaspoon of the cinnamon and the pecans.
Shape dough into 1 inch balls and place 2 inches apart on ungreased cookie sheets. Bake 18-20 minutes or until lightly browned. Allow to cool completely.
Combine the remaining 3/4 cup powdered sugar, 1/4 cup cocoa powder and 1/2 tsp cinnamon in a small bowl. Roll the cooled cookies in this mixture.
Store in layers separated by waxed paper in an airtight container. Cookies can also be frozen for up to 3 months, thaw before serving.