Annacia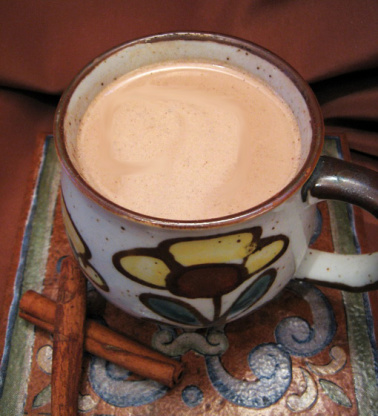 This is a variation on a hot chocolate recipe that I found on the net. It originally used 2 eggs, but I left them out.

This was amazing I loved it! The only thing I added was cayenne to give it a little kick and it worked well with soy milk too!
4

cups whole milk

4

ounces mexican chocolate (3 ounces semi-sweet chocolate)

1

teaspoon cinnamon

4

tablespoons sugar

1

pinch salt

1

teaspoon vanilla, preferably Mexican
cinnamon stick (to garnish)
In a medium sized saucepan, heat the milk over medium heat until scalding, but not boiling.
Break the chocolate into pieces. Add to the hot milk along with the cinnamon, sugar and salt. Stir until melted. Beat with a wire whisk until frothy.
Add the vanilla. Continue to whisk.
Pour into 4 mugs. Garnish with a cinnamon stick.